With ERP Next Business Application you can

Integrate… Transform… Scale…

your business
ERP solution for Small and Medium enterprises
SKIL blends its operational consulting expertise to help its client to
implement and institutionalise ERP Next business application across the
enterprise
Enterprise Platform for the Digital Age
Rated by Gartner published "ERP Frontrunners"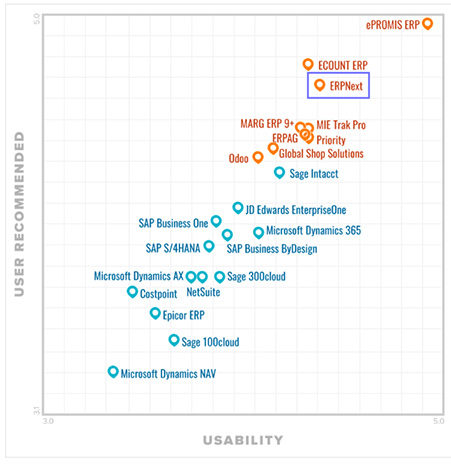 Reduced cost of Ownership
No yearly licensing cost. Customize it to your Ownership business needs.
Manufacturing
Bill of material, Route card, Job card, Production planning, tracking and more.
Retail
Point of Sales, Multi warehouse management, Promotions, Billing, Pricing, Multilingual, Acquire and manage customers
Education
Manage and Track student Life-cycle, from enrollment to course completion.
Projects
Create, manage and review projects, service visits and maintenance, multi currency.
Healthcare
Patient management, Record management, Appointments and Consultations
---
Enterprise Resource Planning using ERPNext
Financial Accounting
The heart of your business, everything flows through here.
Purchasing
Keep track of purchases and stay on top of costs and budgets.
Healthcare
Patient care with appointments, consultation and lab reports.
CRM
Everything about your customers, stay in touch and keep them updated.
Projects
Manage teams with multiple tasks, track time and costs.
E-Commerce
Website listings, shopping cart, billing, payments and much more.
Inventory
What goes in, what comes out and where you can find it.
Manufacturing
From Bill of Material to Work Orders and movement of stock.
Website
Fully featured content management with blogs, web pages and forms.
Sales
Closing a deal and ensuring that it is successfully fulfilled.
Education
Manage students, classes, attendance, timetables, grades and fees.
Support
Email integrated ticketing system with threaded replies and assignments.
---
ERPNext is a modern, easy-to-use, free, business system used by more than three thousand enterprises. ERPNext has everything you need to run your business, and make it better.
---