Lean Six Sigma Black Belt Certification (DMAIC)
A must have problem solving skill for every Manager
Live Instructor web based program

Weekends | Weekdays

Corporate | Public Program

Duration – 80 Hours

Free access to Recorded Sessions for 6 months.
Training and Certification program in Lean Six Sigma Black Belt

37% of the organizations across the world employ Lean Six Sigma to achieve better Business results.  The Lean Six Sigma course is designed to equip you with complex problem-solving skills, project management, change management and leadership skills. Most organizations now seek continuous improvement skills as a part of all the job roles. Training and Certification in Six Sigma will increase your market value by at least 2x times

Is this certification right for me?
Six Sigma is practiced in medium to large enterprises across the world as a continuous improvement methodology to achieve breakthrough enhancements improvements and boost their profits. If you are looking for a job change, a certification in Six Sigma will boost your chances of getting the job.

---
Lean Six Sigma training and certification is highly recommended for those in Operations Excellence/ Operations/ Production/ Quality/ Inspection/ Management role. Knowledge in Lean Six Sigma would help you to improve Quality, Efficiency or Delivery of your processes or job area.

---
Knowledge in Lean Six Sigma will enhance the way you understand business and its strategy. It is most recommended as a steppingstone for middle and senior management

---
---
One of many success stories – How SKIL helped Sameer get his dream package and job

---
---
---
Benefits of getting trained and certified as Lean Six Sigma Black Belt

---
Exceed expectations
Applying Lean Six Sigma tools will help you achieve breakthrough improvements in efficiency, quality and turnaround time in your own work area.  You will exceed expectations on them with the use of improvement tools.

---
Job Security

Working professionals having skills in Lean Six sigma will give them higher job security than others. Because as a Lean practitioner, you are always in a hunt to add value to your company

---
Get on A Team
Knowledge is one of the key criteria to consider for A team.  With Lean Six Sigma knowledge, you have an edge over others!

---
Confidence and Self – Esteem
Once you achieve most of what is mentioned, you will gain confidence. Lean Six Sigma credentials, success stories, more confidence, and getting into A team will boost your chances of getting hired in a global organization. You will be the go-to man for your colleagues.

20000
Experience - Consulting hours
12000
Professionals coached
---
---
---
What participants say
---
If you have passion towards quality and problem solving, SKIL is the place.  I enjoyed the sessions, especially, instructor's capability to easily connect to my work area.  I have attended many other training programs from other places, but its mostly theory.  What's unique at SKIL is the real time consulting experience shared by the instructor"
"The program conducted by SKIL for the "Certified Six Sigma Black Belt" course has changed my life! I have seen dime-a-dozen Six Sigma courses but this one stands out from the rest in methodology, Quality, Delivery and Hands on learning."
SKIL has a unique approach in solving the problems through case studies, real time scenario discussions. The course was practical and helped us to understand the difficult concepts at ease. Instructor's ability to interact and relate concepts to our domain is excellent " – A final year M.Sc. student from Christ University who underwent our LSSGB for HR program during 2019 – Feedback given to her department HOD.
Career path options
Training & Certification in Lean Six sigma enhances your existing job role. If you are keen to explore roles specific to Six Sigma skills, you could consider:
Lean Six Sigma Black Belt

Business Analyst

Business Consultant

Head operational excellence.
Business excellence manager

Quality Assurance Manager

Continuous Improvement Manager

Operations excellence manager
---
Course is delivered in three modes
---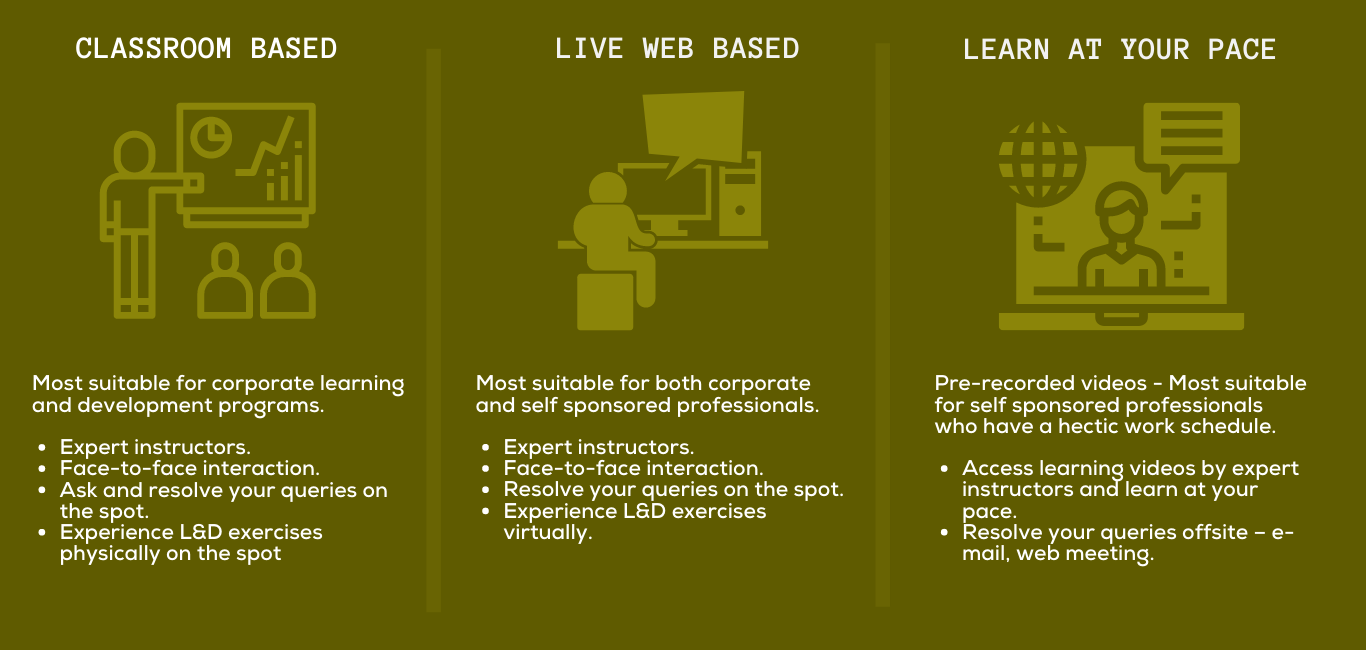 ---
Duration and Pre-requisites
---
Course Duration
Classroom based–10 days (weekends)

 Instructor-Led live web sessions & self-paced – 80 hours.

Self-paced sessions – within 6 months
---
Work experience

Work experience is necessary                          A minimum of 3 years of experience is preferred..

Understanding of business cycle is required.
---
Education

Preferred Minimum education – Graduate from any university


Diploma/ Graduate

Post Graduate/ Masters
---
---
---
Our books in Lean Six Sigma
---
---
Key features of the program
---
---
---
Certification exam included

---

---
---

Free "Lean Made Simple" book

---
---
Learn by doing – Exercises & Games

---

4 hrs of coaching and mentoring

---